The place called Hjerm has a long history, but as a city it begins with the railway in 1866. At that time the train stopped at a shed by the field, but then a town was established with station, dairy, mission house, inn, trade and crafts. A little south of Hjerm city is the old church of the parish, which, due to its size and decoration, is the most marked example of a mansion church. The interior of the church is strongly influenced by the generous decorations and distinguished graves of gentlefolk. In particular the estates Volstrup and Ausumgaard have contributed to the splendour of the church, which in several places has been garnished by coats of arms from the families Munk, Juul, Linde, Obelitz and Klingenberg.
Struer Museum, Jesper Bækgaard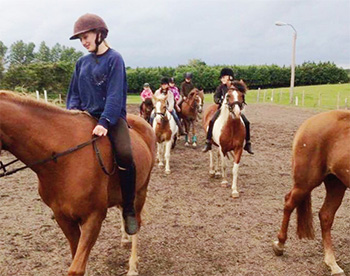 The countryside seen from horseback
Horse riding is simply the best way to experience nature. When we ride at home on the training field, we have beautiful views of the fields and the magnificent Limfjord.
If we want to experience something else, it will be a ride along the small cosy roads in Oester Hjerm, where there is very little traffic. Then we can watch the farmers work in the fields and really sense the countryside.
"Stald Noerretelling" is a lovely small riding stable in Oester Hjerm with good opportunities for riders of all abilities.
Here is the possibility of breaking horses in, horse accommodation, teaching and training camps. Here is room for everyone – from the one who loves horses, to the one who just needs to relax and have peace and fresh air in good company.
Henriette Balling