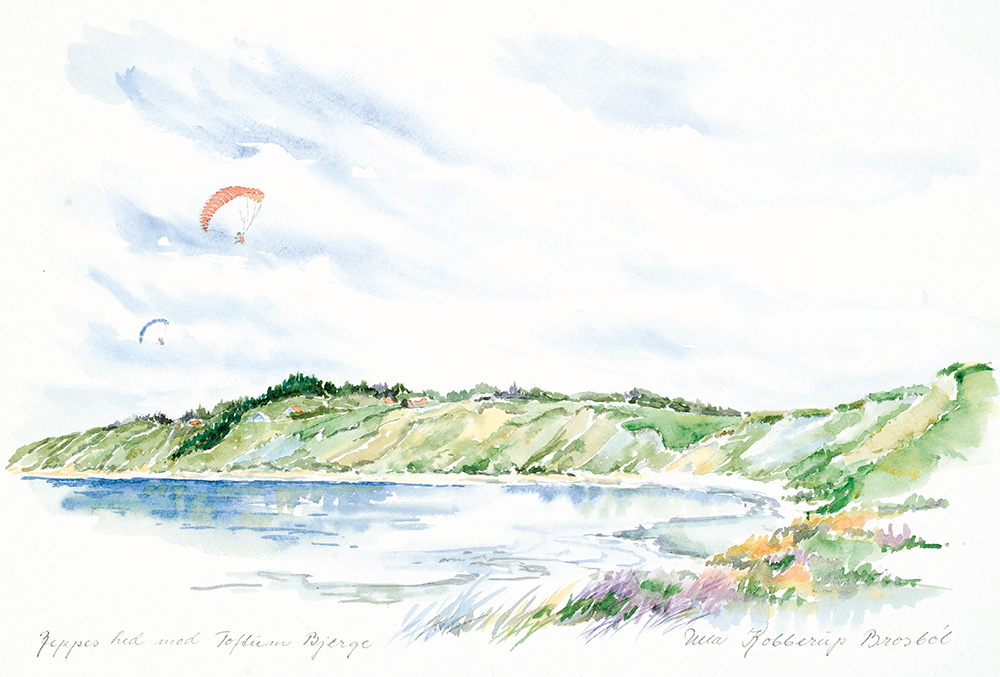 Toftum Bjerge (Toftum "Mountains") are very pronounced in the landscape. The slopes rise from the Limfjord. They are so-called edge morons, surviving from the ice age's hard treatment of the Danish landscape, where the ice pushed clay and sand together into layers. With its highest point of 50 meters, the view from Toftum Mountains is magnificent. You can see Oddesund, Thyboroen, Thy and Thyholm. The author Johannes Buchholtz and his future wife Olga went to this place, and did their very first walk together, and it was a place they returned to many times – including their many writer- and artist friends. The surrounding nature and the view also attracted painters in great numbers in the 1930s and 1940s, where the same artists returned again and again. A large collection of these paintings can be found today at the Struer Museum.
Struer Museum, Jesper Bækgaard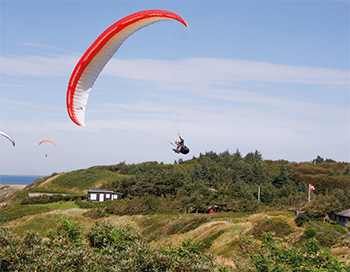 Just made for a paraglider
The ancient forces of the past have left the terrain with perfect contours and lovely, steep slopes. Viewed from above, the area has a rough, brutal and at the same time idyllic expression. It allows for great experiences for paragliding pilots from near and far.
Toftum Bjerge are known in paragliding circles in large parts of Europe. In Denmark, the area has the reputation of being among the absolute best places for "the world's most peaceful extreme sport".
Abroad, the place is known for the good conditions, which also include the fantastic accommodations at Toftum Bjerge Campsite and in the cottages.
The site has been used by paragliders and hang gliders since the 1970s, and is today one of the most preferred airfields for the Struer club Parafun.
Poul Henriksen